MVA Approved "One On One" Commercial Driver Program Class A and B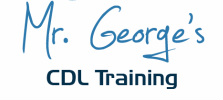 Our primary focus is our student. Because we understand that every student is different we extend the ability to receive personalized learning through "One on one Instruction". The instructor and student. Our training curriculum is focus on the core elements of a behind-the-wheel training and is paced to the needs of the learner. The practice sessions are schedule around your busy schedule . And are offer One on One.So class starts whenever you are ready.

---


No classroom setting or big groups

One on One Instruction



No waiting to get started

Classes start today
Quick Course Info

We offer personalized hands on classes with emphasis on the following.

Pre Trip:

During the Pre Trip inspection, you must ensure that the vehicle is safe to drive, by walking around the vehicle touching, pointing and explaining the vehicle parts. What you are checking and why.

Basic Skills:

The testing facility (MVA) (DMV) will test you on your ability to control your vehicle with different excercises.

Road Skills:

You will drive over a route that has a variety of traffic situations. At all times you must drive in a safe and responsible manner.